DIY Help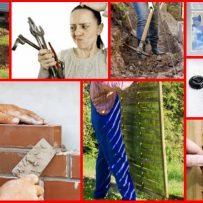 DIY Rescue
Have you started a DIY project that seems to take forever to get it finished?
The House
Decorating the house, stripping the paint/wallpaper that seems so stubborn…
Maybe the ceiling, wall, or paintwork just doesn't quite reach the perfection you were hoping for?
…I could finish it for you.
The Garden
Perhaps you started something in the garden? Maybe a fish pond, a wall, a patio, or even a garden path – Everything seems to be taking too much time to complete (And getting those paving slabs level can sometimes become such a nightmare!)
…I could finish it for you.
The fence
Maybe that fence is rickety and you're not sure what to do to put it right…
Perhaps a broken fencing panel, or some missing slats, or supporting timbers have come adrift – Possibly the kick board at the bottom has rotted away… or the wire strand supporting the netting has broken.
You've tried everything, you don't know how (or don't have the proper tools) to put it right…
…I could finish it for you.
Odd-Jobs around the home
And then there are those "niggly" little jobs around the home that just seem to stack up and become a never ending source of irritation, such as…
broken toilet seat/handle/flush
squeaky/creaky door/floorboards
stiff/draughty window/door
broken door handle/catch/latch/hinge
dripping tap/pipe/damp patch
leaking pipe/joint/overflow
missing  plug/chain on the bath or sink
trimming the hedge/lawn/borders
weeding the drive/patio
wobbly table/chair
poorly assembled flat-pack furniture
clearing the house/garden/shed
taking rubbish up the tip
the list goes on, and on, and on…
Don't worry, these are the kinds of job I love to fix for people lust like you! I have the knowledge, know-how, experience and more importantly, exactly the right tools for the job – So these won't take me long to do either…
I'm here to help and I think you'll find my prices are very reasonable!
Next Steps
Call me on: 01223 244 442 or my mobile: 07742 003 497 or email me: david@davidattlesey.com You'll find my prices are very reasonable and I'll be happy to help you out wherever I can!