How To Fix a Kitchen Cupboard Door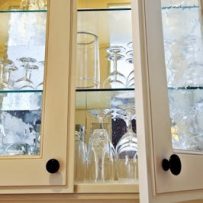 Badly fitting kitchen cupboard doors present a common problem but they're easy to fix yourself, this article shows you how it's done.
Most cupboards these days use a sprung steel hinge which which is concealed, so that the door stays closed without the need for any kind of a catch.
Although various brands will vary slightly, they usually come in two parts where one screws to the door with two door holding screws, and the other part screws to the cupboard frame with two cupboard holding screws.
These slot together and are held in place with a locking screw which tightens up to hold the door in place. Some more modern hinges also have a sprung loaded quick release catch so you can remove the door simply by pulling back the catch.
Finally there is an adjusting bolt which is used to move the door left and right, or change the angle.
The design of kitchen unit door hinges leads to many common problems
How to fix loose kitchen unit doors:
Make sure the locking screw is tight. If this has come loose the door may have slid in or out from its original position as the two parts of the hinge slide against each other.
When the door is open aim for approximately a 1mm gap between the door and the cupboard.
If this doesn't fix the looseness check the fixed door screws and the adjustable cupboard screws.
Tighten these up – If they won't tighten you may need to discard the original screws and replace them with fatter or longer ones. Make sure longer ones are not so long that they go right through the wood. Sometimes you may need to fill the holes with good quality two part wood filler to get a good tight connection.
TIP: If you do decide to use filler then drill a pilot hole before screwing back in to the filler
How to adjust poorly aligned kitchen cupboard doors
Adjusting the vertical height:
Undo the two adjustable cupboard screws on both hinges
They are usually in slotted holes which mean and you can adjust up or down by a few mm
Tighten back up
To adjust the doors side to side:
Turn the adjusting screw on both hinges on each door.
You may have to slightly release the locking screw to do this.
Make sure it's tight afterwards.
Adjust the angle of a door with the adjusting screw, but only screw either the top or bottom screw.
For a bigger adjustment you can screw the top one way and the bottom the other way.
You may need to slightly release the locking screw to do this, and make sure it's tight afterwards.
Next Steps
If you get stuck or you need a helping hand, and you live within 30 minutes from Cambridge then please call me on: 01223 244 442 or my mobile: 07742 003 497 or email me: david@davidattlesey.com You'll find my prices are very reasonable and I'll be happy to help you out wherever I can!
David is a professionally trained tradesman, ready to undertake handyman jobs in Cambridge and around Cambridgeshire. Connect with David on Google+