Fencing And Raised Flowerbed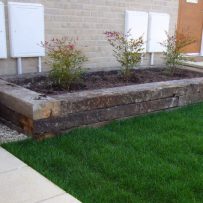 We purchased a new home with a large garden that needed a complete makeover. We obtained several estimates from local reputable contractors, and David's quote was the most economical, and with some great ideas for the money.
David created a raised flowerbed out of railway sleepers for us that looks amazing, and is really easy for us to maintain. In addition, he extended our existing patio, fitted a new fence and, as well as to provide walkways from the front of the house to the back.
David used his extensive connections and suppliers to find just the right materials that fitted in with what we were looking for. His attention to detail was very much appreciated and made the project seamless and first class.
Additionally, David constructed a pergola to provide us with some shade and privacy from our close neighbours. Drip irrigation was installed in the raised flowerbed and a sprinkler system was also installed. High quality plants and several young trees were selected and planted in our raised flowerbed, with great attention to providing colour and texture for all seasons.
We have been satisfied with communication between David and ourselves. He always returns phone calls in a timely manner and is prompt when arriving for appointments.
We are extremely happy with the results of our project, it's virtually maintenance-free and turned out beautifully and with pleasure, we would like to recommend David Attlesey for all of your gardening and HandyMan needs.
Project included:
Clearing away unwanted garden materials
Installing and planting raised flowerbed
Installing drip irrigation system and sprinkler
Fit automated irrigation timer
Extended existing patio
Fit new fencing
Construct and plant pergola
Lay pathways from front to rear of house
We recently had fencing and a raised flower bed installed in our garden and although it was only a small job it was dealt with professionally and done to a very high standard. David is a great guy, very friendly and very hard working. We have already highly recommend his  services to friends of ours and will be using him for future gardening and handyman projects.
Next Steps
If you get stuck or you need a helping hand, and you live within 30 minutes from Cambridge then please call me on: 01223 244 442 or my mobile: 07742 003 497 or email me: david@davidattlesey.com You'll find my prices are very reasonable and I'll be happy to help you out wherever I can!
David is a professionally trained tradesman, ready to undertake handyman jobs in Cambridge and around Cambridgeshire. Connect with David on Google+