Services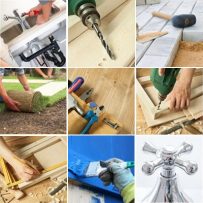 I have provided many services for my clients, efficiently and cost effectively.
The list below is by no means exhaustive, so if you do not see exactly what you are looking for below then please contact me as I have more than likely missed it off my list!
You will find that I am completely open, honest and totally reliable. I pride myself on being meticulous and conscientious. I enjoy my work and I take a great pride in it.
Please take a few moments to read my testimonials
I also have a very wide range of professional contacts that work in many specialised areas and who would be able to provide you with the exact service that you're looking for.
Just some of my services
.
Building Services
Bricklaying & pointing
Patios & Paving
Paths & Driveways
Windows
Decking
Footings
Kitchens
Flat-pack assembly & fitting
Fit domestic appliances
Sinks, drains & fittings
Draining boards
Shelving
Tiling & Flooring
Bedrooms
Flat-pack assembly
Fitted wardrobes
Beds & bunks
Flooring
Ceilings
Walls
Safety / Security
Windows
Doors
Locks
Bolts
Catches
Stops
Bathrooms
Baths
Showers
Sinks
Toilets & Bidets
Tiling & Flooring
Interior
Painting & Decorating
Doors, walls & windows
Flat-pack assembly
Shelving & fittings
Tiling & Flooring
Skirting Boards & trims
Exterior
Painting & decorating
Windows & windowsills
Doors & door frames
Bricklaying & pointing
Fences, gates & paths
Gardens, sheds & ponds
Plumbing
Kitchens & fittings
Toilets & Bidets
Bathrooms & En Suite
Showers
Heating & Radiators
Outside taps
Next Steps
Call me on: 01223 244 442 or my mobile: 07742 003 497 or email me: david@davidattlesey.com You'll find my prices are very reasonable and I'll be happy to help you out wherever I can!