How To Replace An Air Brick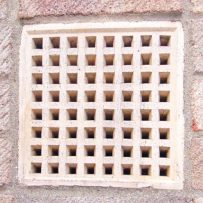 Good ventilation is essential in all buildings, not only to remove unwanted odours, but more importantly to prevent the build up of warm moist air that can lead to condensation, mould growth and rotting of timbers.
Damp is one of the most dangerous enemies in any building but can be overcome by sealing the building to keep the water out.  Pockets of moisture laden air are inevitably created inside the building as a result of cooking, running hot taps and even the inhabitants breathing.
If the moisture becomes trapped mould will flourish and rot will take hold, possibly wrecking the structural timbers in the long term.  The most vulnerable parts of the building are the void below the suspended timber ground floor area.
Under-floor ventilation such as airbricks must be fitted at 1.8m intervals around the bottom and above the sub-floor 150 mm ground level.
Tools required for fitting an airbrick
A bolster
A club hammer
Protective goggles
Protective gloves
Bricklayers trowel
Pointing trowel
Drill fitted with a masonry bit
Bucket of water
Something to mix your mortar
How to fit an airbrick
Drill out as much of the mortar as possible using a bolster to remove the mortar around the brick
Remove brick
Replace with an airbrick
Mortar the airbrick flush with the wall
Repoint the airbrick
Job finished!
Remember, if an airbrick becomes blocked or broken it should be fixed immediately. An airbrick only costs a few pounds to replace and compared to the cost of replacing the floor joists it would be madness not to fix this potential timebomb.
Next Steps
If you get stuck or you need a helping hand, and you live within 30 minutes from Cambridge then please call me on: number here or my mobile: number here or you can email me here: handyman@davidattlesey.com You'll find my prices are very reasonable and I'll be happy to help you out wherever I can!
David is a professionally trained tradesman, ready to undertake handyman jobs in Cambridge and around Cambridgeshire. Connect with David on Google+